Welcome to The Treatment Room!
Based in Hensall, North Yorkshire, a warm welcome awaits you as we journey along your path towards better health and wellbeing.
Are you looking to calm stress or anxiety which seems out of control?
Have you had a health condition which just doesn't seem to want to turn the corner towards recovery?
Are you open-minded enough to try working with your innate energy field to restore balance?
The Treatment Room offers a world of energy solutions and no two treatments will be the same. Lasting for 90 minutes, an energy treatment will focus on what you need in the here and now. It could be a mixture of any of these:
A biofeedback analysis and tapping your energy field with a tailor-made symphony of positive frequencies
Reflexology to balance your body through the 1200 nerve endings in your feet
Ayurvedic Reflexology, which removes negative energies (prana) through mama points in your feet, increases movement and enjoy an advanced reflexology treatment. Start and finish with wonderful hot towels on your feet for a luxury treatment
Facial Reflexology and Facial Massage, for top relaxation and balancing, which has a very calming effect on your nervous system and is great for over-active minds
Reiki and Chakra Cleansing to remove 'stuck' energy centres and restore your energy flow
A Terahertz Frequency experience, using the latest technology to eliminate unhealthy cells in your body, remove impurities in your blood, improve metabolism, enhance your body's healing ability and stimulate acupuncture and meridian points.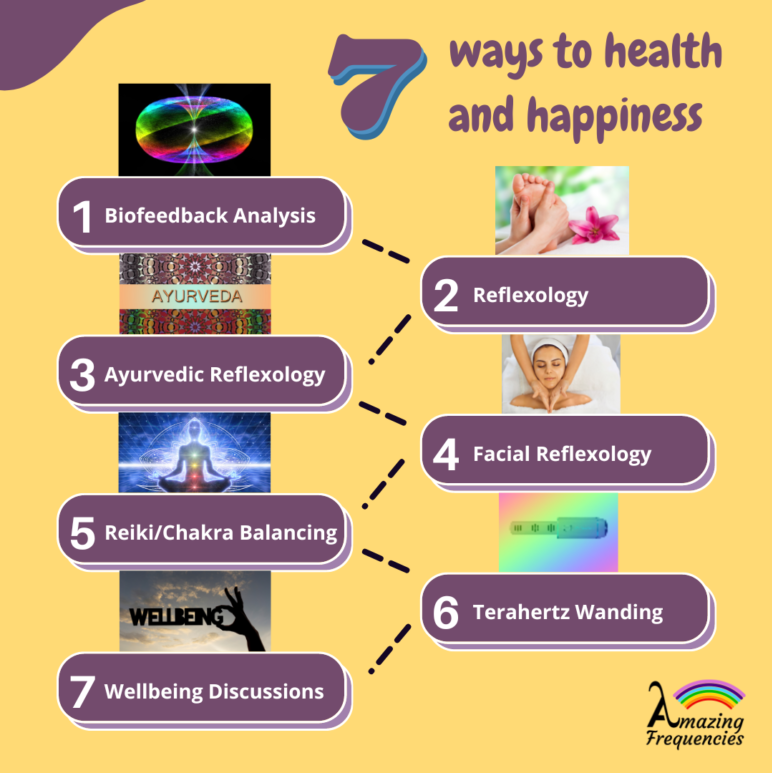 To make an appointment or for further information, please call Judy on 07443619996 or drop me a line through the contact form.
90 minute Energy Treatment | £65

30 minute Terahertz Frequency 'Wanding' Treatment | £25

If you live close to Hensall (DN14) in Yorkshire, we are able to offer Energy Field Parties!
Gather 3 of your friends in your home and everyone will receive a Biofeedback frequency scan individually, view your aura, understand which chakras are in or out of balance and know which minerals, vitamins and sensitivities you should pay attention to!
A great morning, afternoon or early evening with your friends and you'll have the opportunity to experience the Terahertz Frequency Wanding, too, all for £30 per person.